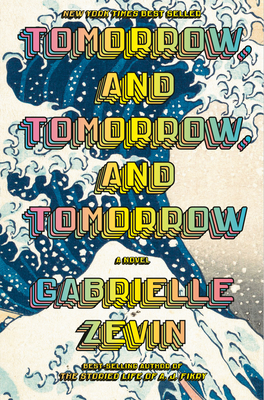 https://www.indiebound.org/book/9780593321201
This is the story of two kids who forged an unlikely friendship in the 80s playing Nintendo. They grew apart as they aged, but reconnected during college and beyond to make the first of many successful video games as partners.
I pre-ordered this book knowing nothing about it because Gabrielle Zevin wrote The Storied Life of AJ Fikry: a favorite of mine. In Tomorrow, as in AJ Fikry, her writing is beautiful. It's musical without being difficult and evocative without being sappy. This book was much darker than AJ Fikry; while I was reading it I always felt an undercurrent of sadness. But after finishing and viewing the book as a whole, I no longer feel despondency. Instead I've realized it's a story built upon friendship and love, both of which are portrayed truthfully, with the fluffy feel-good parts never eclipsing the reality of human relationships. I actually now reflect on it as a fairly joyful book.
It's the first time I've felt like someone was able to articulate the artistic merits of video games and how they should hold space in the literary and art worlds. I also valued a female technologist as protagonist, and the team dynamics were spot on: a small group of people pouring their souls into making something they believe in, and living with the effects on the world afterward.
At times I was waiting for something to happen, and a big KABLAM "something" never did. But the continued, kablam-less story kept me transfixed because of its sameness. Like a Roguelike Metroidvania game, the more things stayed the same, the more interesting they became.