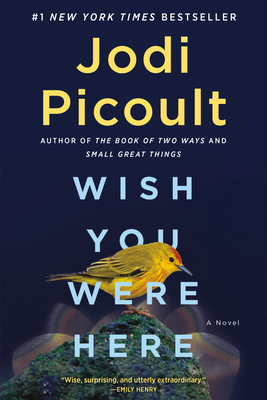 https://www.indiebound.org/book/9781984818416
I hate Jodi Picoult. I have hated her since My Sister's Keeper, which I thought was emotionally manipulative drivel. But when I heard two women talking about, "the book that is the COVID story" at my nail salon, I decided I had to know how COVID could be packaged up for entertainment value, if only for the lolz.
In this book, Diana is stuck alone on the Galápagos Islands when their borders are closed in March of 2020. She doesn't have a place to stay, or speak the language, or have money. Meanwhile her surgical resident boyfriend back in New York is experiencing the worst nightmare of the pandemic.
Weird twist: I loved this book. Why??
I think two reasons.
It was a reminder of how far we've come since the beginning of COVID. We have vaccines and therapeutics. We can see each other. We know it's safe to touch our own groceries. It was like cleaning a house and being proud of the results, knowing what a mess it was the day prior.
More importantly, it was a really interesting take on the realization that has hit so many of us that our perfect lives actually weren't so perfect at all. It was a bit contrived, but felt oddly reassuring.
Not to be read when you're already feeling blue, but if you need some validation for a COVID-related choice or set of circumstances, it's a good one.
PS: I've been researching trips to the Galápagos Islands. I must go.